Hi there! Maiden here again! :-)
This time I´ve made a card for a friend of mine who got a new job. The text says "Good Luck". I´ve used the stamp "
Jeppe - krya på dig
" which actually is a "get well stamp" and looks like this: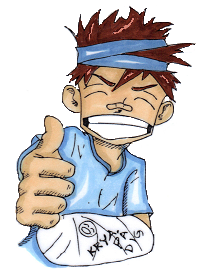 But... I took away the bandage and that way I think it kind of looks like a "good luck" stamp! :-)
I guess this is a "typical" Maiden card, the scull and everything... ;-)
Have a nice weekend!
Maiden